One week ago I ended up not having a bike for this race and I was thinking maybe this was not meant to be but one person from my running club was kind enough to lend out her race bike to me.  Since I have prepared myself using my 24 gear city bike I was in chock when I picked it up Tuesday afternoon downtown and took my first "steps with it". So I had a couple of days to get used to this very different bike.
4.30 this morning the alarm went off and it was time to eat breakfast without stress and pack the rest of things that I needed to be at Sövde for the day.
Suz and I would be the two people representing Coach K Runners and here we are prior to depart time 6.45. Both were going to do this for our first time.
On our way down it was talk about our expectations of this race
First it was time to get ready for the race by putting our bibs on our bikes and helmets. Take out the wet suit, our lovely white swim cap and swim goggles.
Now we are ready to check in our bikes.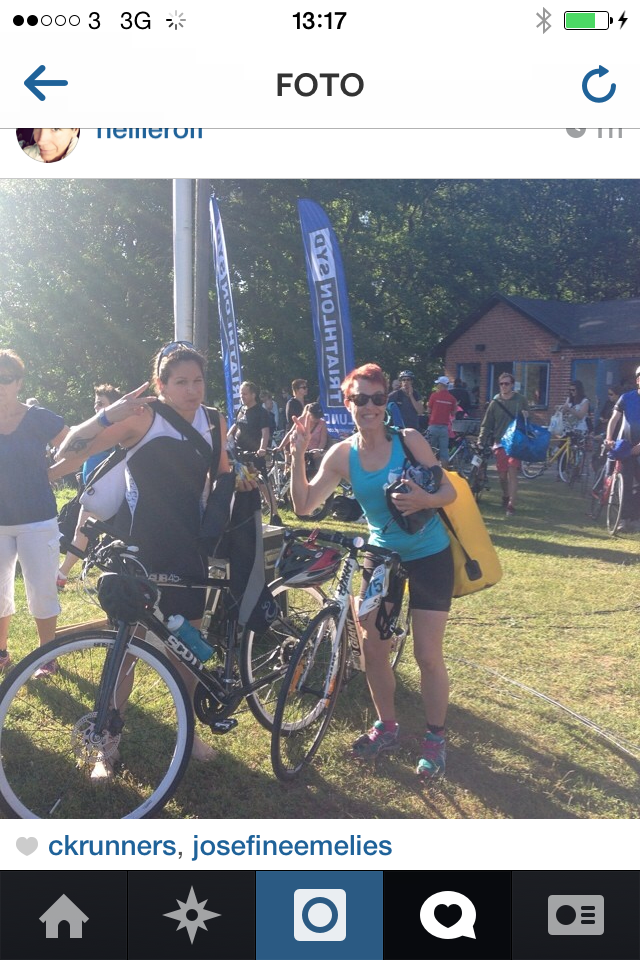 Because we have to put everything that we needed for the bike ride and the run we had to be barefoot before the race started, which was just fine because the weather was perfect. I was a bit nervous because it is a lot to keep track of and also Think about what is best to do to decrease the total time.
It was time to go to "bajamajorna" to get the first nervousness out of the system.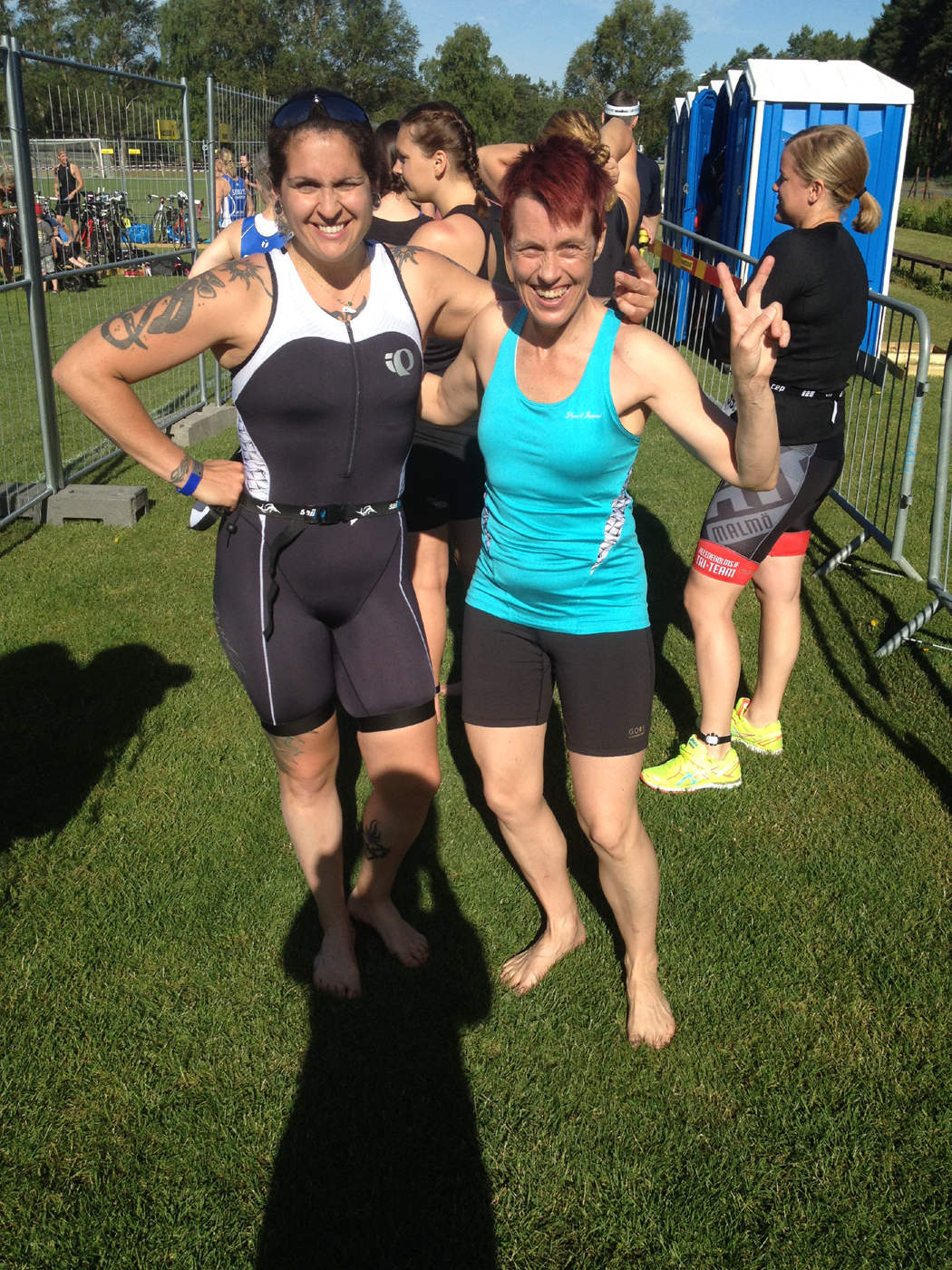 After that it was time to put on the wet suit and head down to the lake Sövdesjön, the temperature was 19oC (66F), Suz was tough to swim only in trisuit and also her first time swimming outdoors. I pepped her to have no fear and just do it. At 9.00 heat 1 started and we were NOT in that, you had to be able to swim under 10 min to be in that heat, my fastest time in the pool was 11.01 so 9.05 it was time to run into the water and start swimming. I had this idea earlier this spring to crawl 200 m and then breaststroke for 200 m but when the total time gets longer and you also get dyspnea I decided that breaststroke it is. Around the buoy it was a bit of a chaose, the jungle law, everyone tried to get first around them so it was a lot of feet and arms flying around. First discipline almost done, time to run out of the water, start to get the wet suit down and run to the exchange area. Get out of the wet suit, put helmet on, sun glasses on, running watch on, running shoes on, decided not to have any socks. Run with the bike out of the exchange area to the magical yellow line where I could "gracefully" jump on the bike.
Now came the discipline that I was most nervous about, you were suppose to be 12 m behind the bike in front of you plus I had misunderstood and thought that it would be on a country road in the beginning because it was said it would be a very shaky bike path and did not look forward to this. Bike fast but with control was what I wanted to do since it is very easy to bike very fast with a race bike but you are not the only one out on the road. Plus the roads had not been closed for other traffice like cars. I realized that 12 m was not so important and was biking in a good tempo and then Suz passed me and said those magical Words. I do not remember what they were but they triggered me to bike much faster that I had expected. Actually this was the discipline I enjoyed the most. 2 laps (total of 20k) on the same bike path and then it was time to jump "gracefully" down from the bike and run with the bike into the exchange area again and get ready for the 5k run. When I had parked the bike I could take off the helmet and start running.
I had a very high tempo on the bike discipline because I was breathless when I started to run and tried to get down to a much more enjoyable breating but it was tough. Did not expect a good time here. The trail was fantastic, in the woods. It was such a joy to run throught the finish line and get a medal and a finisher t-shirt. I got some water and a banana.
After I was done I waited to see Suz come running and cheer her on. She ran Kullamannen 56k Ultra last weekend. And then I saw her and cheered her on.
Here Coach K Runners have received their medals and have now done our first Triathlon Sprint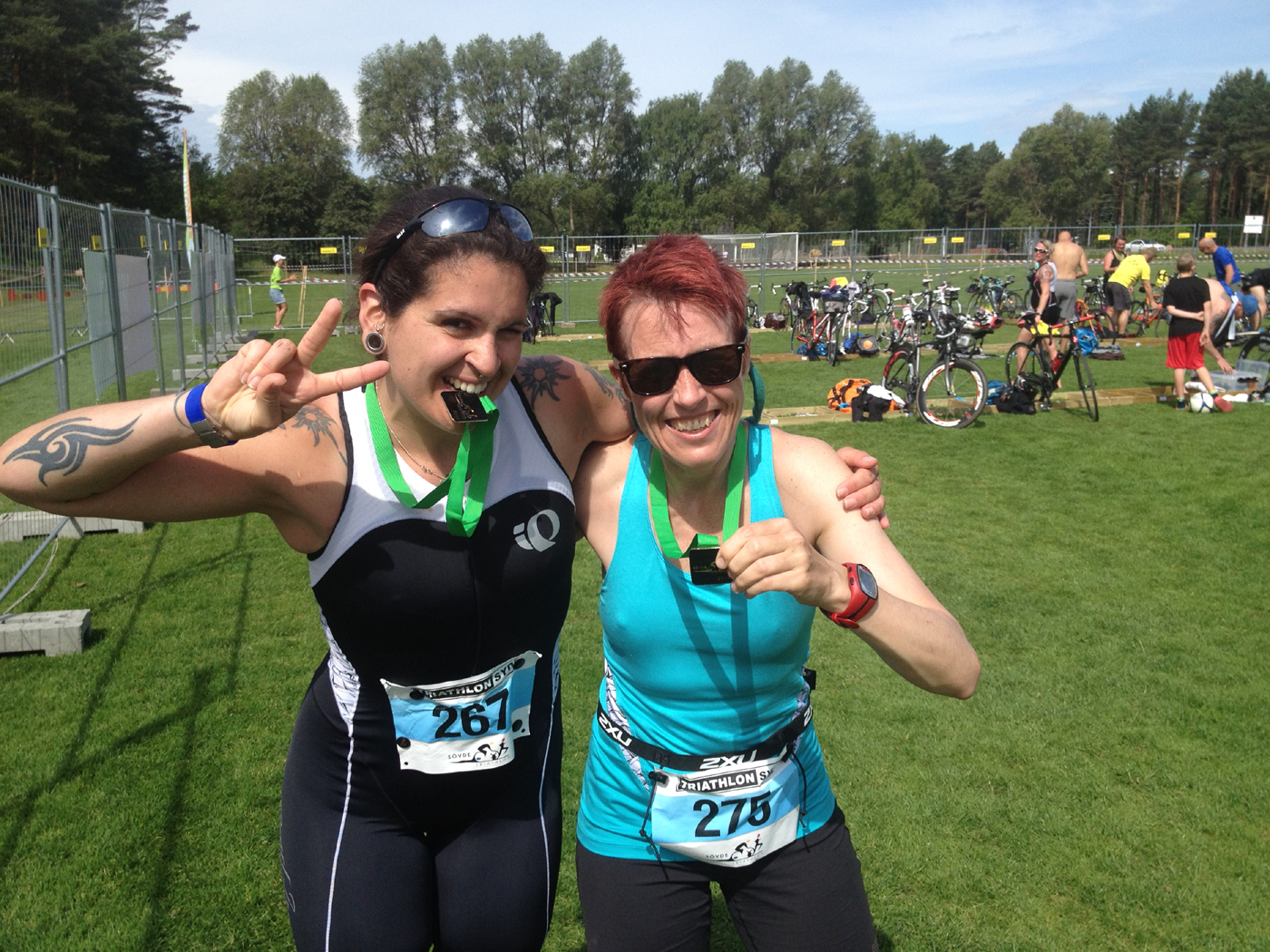 And here we are with another Coach K Runner who was a competition official today.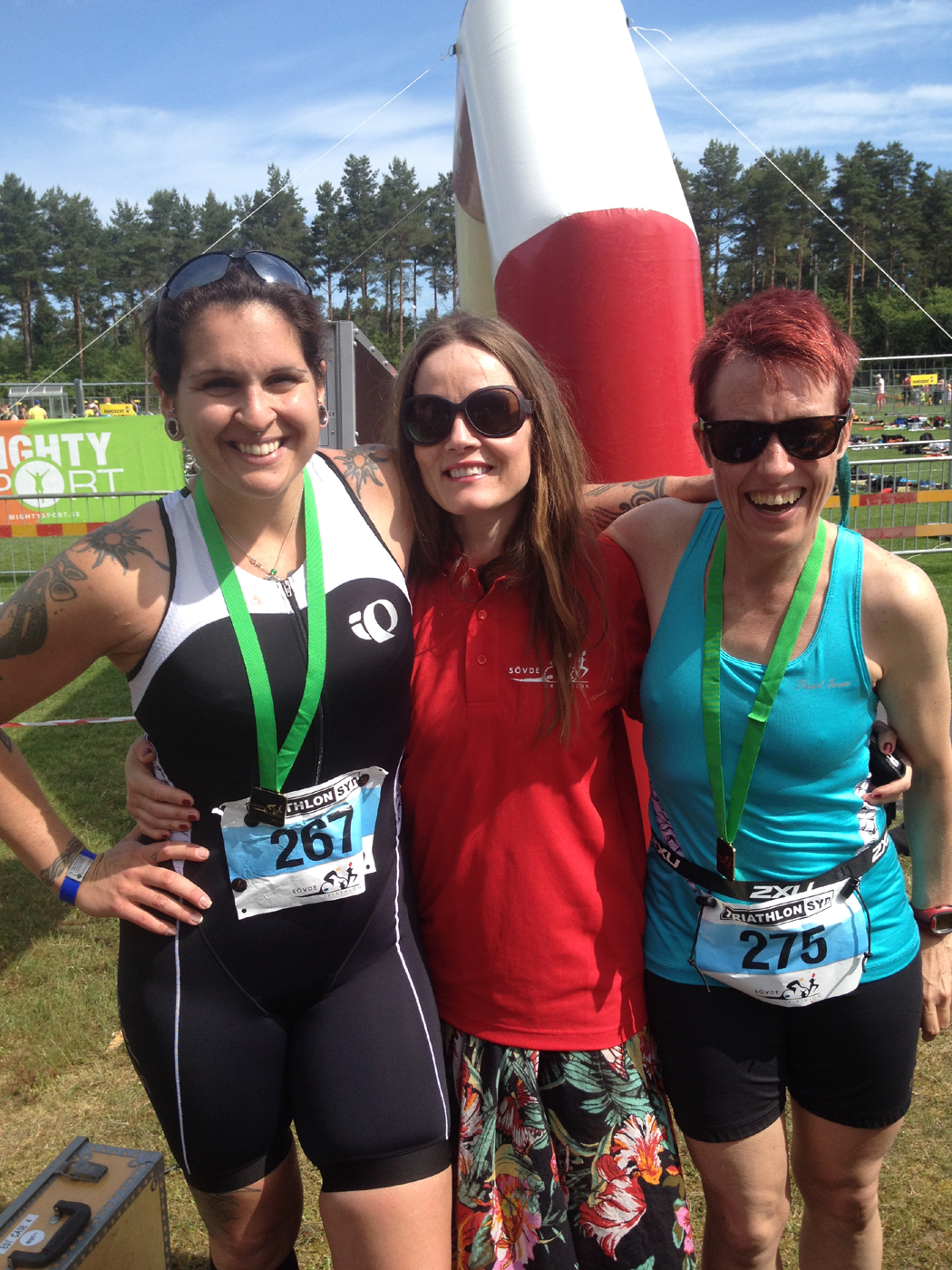 Here come the results of Coach K Runners